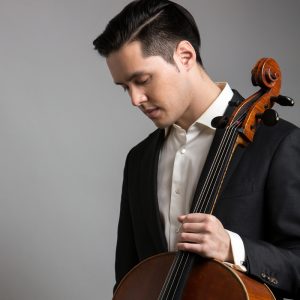 A "long-admired figure on the New York scene" (New Yorker), cellist Michael Nicolas enjoys a diverse career as chamber musician, soloist, recording artist, and improvisor. His eclectic tastes and adventurous spirit have led him to forge a musical path of uncommon breadth, where his activities range from performing the masterpieces of the past in the world's most prestigious concert halls, to free improvisation in downtown New York experimental venues, to working with contemporary composers of all styles, pushing the boundaries of musical expression and meaning.
The ensembles Michael plays in illustrate his commitment to diversity. He is the cellist of the intrepid and genre-defying string quartet Brooklyn Rider, which has drawn praise from classical, world music, and rock critics alike. As a member of the acclaimed International Contemporary Ensemble (ICE), he has worked with countless composers from around the world, premiering and recording dozens of new works. Another group, Third Sound, which Michael helped found, made its debut with an historic residency at the 2015 Havana Contemporary Music Festival, in Cuba. Earlier in his career, he played with the popular South Korean chamber group Ensemble Ditto, and also held a post as Associate Principal Cellist of the Orchestre Symphonique de Montréal.
As a soloist, Michael performs recitals and concertos across the globe. His album Transitions, available on the Sono Luminus label, was named Q2 Music Album of the Week at WQXR upon release, and it has since garnered critical acclaim across North America. His chamber music playing can also be found on the Naxos, Tzadik, and Universal Korea labels.
Of mixed French-Canadian and Taiwanese heritage, Michael was born in Canada, and currently resides in New York City. He is a graduate of the Juilliard School.