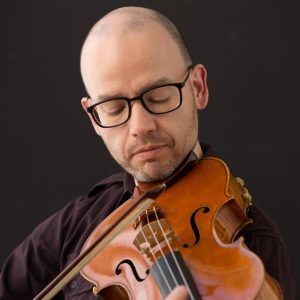 For more than two decades, omnivorous violist Nicholas Cords has been on the front line of a growing constellation of projects as performer, educator, and cultural advocate. As Co-Artistic director of Silkroad, newly appointed faculty member at New England Conservatory (starting Fall 2018) violist of Brooklyn Rider, and Artist-In-Residence at Stony Brook University, he is deeply committed to music from a broad variety of traditions and epochs, with a particular passion for the cross-section between the long tradition of classical music and the polyglot music of today.
Nicholas serves as violist, Programming Chair, and Co-Artistic director of Silkroad, a musical collective founded by Yo-Yo Ma in 2000 with the simple belief that radical cross-cultural collaboration leads to a more hopeful world. This mission is poignantly explored by the recent Oscar-nominated documentary by Morgan Neville, The Music Of Strangers, which profiles the individual stories of Ensemble members and makes a case for why culture matters in today's world. In recent years, Nicholas has served as Silkroad Programming Chair, taking an active role presenting the Ensemble on the world's major musical stages, in museum residencies such as at the American Museum of Natural History and the Freer-Sackler Museum, and also in educational contexts such as their long-standing residency at Harvard University. He has also been involved in bringing to life more than a hundred compositions and arrangements over the group's relatively short history. Nicholas appears on all of the Silkroad Ensemble's albums including Sing Me Home (Sony Music), which received a 2017 Grammy Award for Best World Music Album. Other albums include Silk Road Journeys, Beyond the Horizon, New Impossibilities, Off the Map, and A Playlist a Without Borders. Most recently, the group is prominently featured in the soundtrack for Ken Burns' searing ten-part documentary on the Vietnam War, with an accompanying release available on In A Circle Records.
Another key aspect of Nicholas' busy musical life is as founding member of Brooklyn Rider, an intrepid group which NPR credits with "recreating the 300-year-old form of the string quartet as a vital and creative 21st-century ensemble." In a short amount of time, Brooklyn Rider's singular mission and gripping performance style have resulted in an indelible contribution to the world of the string quartet and has brought in legions of fans across the spectrum. Highly committed to collaborative ventures, the group has worked with Irish fiddler Martin Hayes, jazz saxophonist Joshua Redman, ballerina Wendy Whelan, Persian kemancheh virtuoso Kayhan Kalhor, Swedish mezzo-soprano Anne Sofie von Otter, and banjoist Béla Fleck, to name a few. Brooklyn Rider regularly commissions and champions new works, including those by Tyondai Braxton, Gabriel Kahane, John Luther Adams, Caroline Shaw, Evan Ziporyn, plus many more. Notable appearances in recent seasons include those at Lincoln Center's White Light Festival, Opernhouse Zürich, A Prairie Home Companion, and the South By Southwest Festival. Their recordings, Silent City, Passport, Dominant Curve, Brooklyn Rider Plays Philip Glass, Seven Steps, A Walking Fire, The Brooklyn Rider Almanac, and their most recent, Spontaneous Symbols, have received wide critical acclaim from sources ranging from Gramophone Magazine to Pitchfork.
As a soloist, he has appeared with the Philadelphia Orchestra, the Chicago Symphony, the Minnesota Orchestra, and the Bridgeport Symphony. Recent other highlights include performances at the White Nights Festival in St. Petersburg in works ranging from Feldman to Wuorinen (many heard in Russia for the first time) and the Vail International Dance Festival, where he participated in a revival of a long dormant Balanchine choreography set to Stravinsky's Élegie for solo viola with the great Brazilian ballerina Carla Körbes. His highly acclaimed 2013 debut solo album, Recursions (In A Circle Records), features works ranging from Biber to Hindemith to Cords' own Five Migrations. He has appeared frequently over the years on television and radio including a Chinese National Television broadcast from the Great Wall, the David Letterman Show, numerous National Public Radio broadcasts, Good Morning America, NHK Japan, and a four year run as resident commentator and performer on WQXR New York's Radio weekly On A-I-R. In addition, he has worked with many ensembles, including the Knights, the Caramoor Virtuousi, the Smithsonian Chamber Players, An Die Musik, and the Metropolitan Museum Artists in Concert.
Beginning his musical education at the Juilliard School, Nicholas won top honors in the viola competition and subsequently gave the New York premiere of John Harbison's Viola Concerto at Avery Fisher Hall. He completed his studies at Philadelphia's Curtis Institute of Music. His teachers and mentors have included Karen Tuttle, Harvey Shapiro, Joseph Fuchs, and Felix Galamir. A committed teacher, Nicholas currently teaches at Stony Brook University in New York. Mr. Cords plays on an instrument made for him in 2014 by famed Brooklyn maker Samuel Zygmuntowicz, modeled on the ex-William Primrose Giuseppe Guarneri (filius Andrea) from 1697. He performs on bows from a wide variety of the world's top modern makers including Charles Espey and Benoit Rolland.