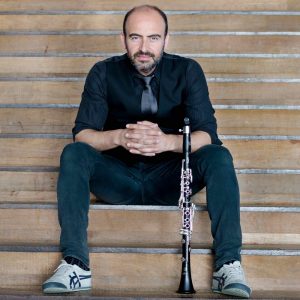 Hailed as a "Virtuoso" and "Intensely Soulful" by the New York Times and "Spellbinding" by the New Yorker, and "Incredibly Rich Sound" by the CBC. His utterly distinctive sound across different musical genres has gained him international recognition as clarinetist and composer. Kinan was recently named composer-in-residence with Classical Movements for the 2017-2018 season.
Kinan has been touring the world as soloist, composer and improviser. Notable appearances include: Opera Bastille, Paris; Tchaikovsky Grand Hall, Moscow; Carnegie Hall and the UN's general assembly, New York; the Royal Albert hall, London; Teatro Colon, Buenos Aires; der Philharmonie; Berlin; the Library of Congress, the Kennedy Center, Washington DC; the Mozarteum, Salzburg, Hamburg's Elbphilharmonie and the Damascus opera house for its opening concert in his native Syria.
He has appeared as soloist with the New York Philharmonic, the Seattle Symphony, the Bavarian Radio Orchestra, the West-Eastern Divan Orchestra, the Qatar Philharmonic and the Syrian Symphony Orchestra among others, and has shared the stage with Yo-Yo Ma, Marcel Khalife, Aynur, Daniel Barenboim and Jivan Gasparian.
His compositions include several works for solo, orchestra, and chamber music; film, live illustration, and electronics. His discography include three albums with his ensemble Hewar, several soundtracks for film and dance, a duo album with pianist Dinuk Wijeratne and an album with his New York Arabic/Jazz quartet the Kinan Azmeh CityBand. He serves as artistic director of the Damascus Festival Chamber Players, a pan-Arab ensemble dedicated to contemporary music form the Arab world. His is a frequent guest faculty at the Apple Hill Center for Chamber Music and is on the advisory board of the Nova Scotia Youth Orchestra. He is also a member of Yo-Yo Ma's Silk Road Ensemble with whom he was awarded a Grammy in 2017.
Kinan is a graduate of New York's Juilliard School as a student of Charles Neidich, and of both the Damascus High institute of Music where he studied with Shukry Sahwki, Nicolay Viovanof and Anatoly Moratof, and Damascus University's School of Electrical Engineering in his native Syria. Kinan earned his doctorate degree in music from the City University of New York in 2013.