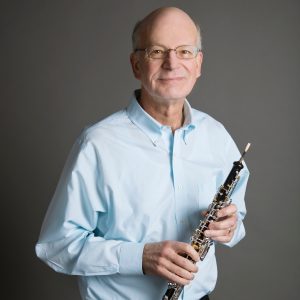 Richard Woodhams, who retired from The Philadelphia Orchestra in September 2018, became principal oboe of the Orchestra in 1977. He succeeded his teacher at the Curtis Institute of Music, John de Lancie.
Mr. Woodhams's tenure included many solo appearances in Philadelphia, as well as in Chicago, New York, Boston and other cities throughout the United States and Asia in collaboration with its four previous music directors. He recorded the Strauss Oboe Concerto with Wolfgang Sawallisch and gave first performances with the Orchestra of solo works by J.S. Bach, Bellini, Haydn, George Rochberg, Christopher Rouse, Joan Tower, and Vaughan Williams. Additionally he has premiered chamber works locally by William Bolcom, Chuck Holdeman, Thea Musgrave, Bernard Rands, Ned Rorem, Richard Wernick, and Ellen Taaffe Zwilich.
Mr. Woodhams has also performed solo works in his career with such notable musicians as violinists Alexander Schneider and Itzhak Perlman, pianists Christoph Eschenbach and Jean-Yves Thibaudet, as well as the Guarneri, Orion, and Dover string Quartets. He also recorded Tower's Island Prelude with Tokyo String Quartet.
Mr. Woodhams has taught at the Curtis Institute since 1985 and has given master classes at many prominent schools worldwide, including London's Royal College of Music, the Juilliard School, Rice University, and the Shanghai Concervatory. His former students occupy prominent playing and teaching positions in the United States and abroad. He has participated in the Marlboro, La Jolla, and Aspen music festivals, among others.
Mr. Woodhams began his oboe studies with Raymond Dusté in his native Palo Alto, California, and his orchestral career in 1969 with the St. Louis Symphony under Walter Susskind. In 2018 he received the annual award of the Philadelphia Musical Society of Philadelphia and this summer will be elected an honorary member of the International Double Reed Society.