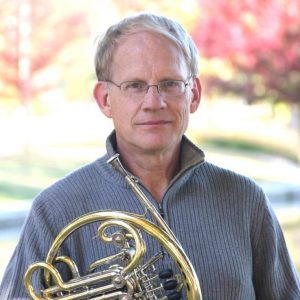 Roger Kaza is principal horn of the Saint Louis Symphony and faculty of the Chautauqua Music School in upstate New York. Previously a member of the symphonies of Houston, Vancouver and Boston, he also played solo horn for the Boston Pops under John Williams, for whom he made numerous recordings. He has joined leading U.S. orchestras as guest principal, including the Chicago Symphony and Los Angeles Philharmonic, has appeared as soloist across North America and Mexico, and was chosen to open the International Horn Society's 43rd annual conference in San Francisco. Recently he appeared with the Saint Louis Symphony in Richard Strauss's Second Horn Concerto, under the baton of David Robertson.
Kaza's musical activities are wide-ranging. After early training on piano with Lenore Cowling, he studied composition with Tomas Svoboda at Portland State University while continuing on horn with Patrick Fay and Christopher Leuba. He received a Bachelor of Music with Honors under Thomas Newell at the New England Conservatory in Boston, and studied conducting with Leonard Slatkin, Gunther Schuller and Murry Sidlin. In this capacity he directed more than 40 outreach concerts with Houston Symphony musicians, performing in schools, homeless shelters, and retirement homes. His summer activities include Chamber Music Northwest, Strings in the Mountains, the Peter Britt Festival, Chautauqua, Aspen, Vail Valley, Mainly Mozart, and major European venues such as the Lucerne Festival.
Kaza has served on the faculties of Rice University, University of Houston, Saint Louis Conservatory, Tanglewood, and held master classes at Juilliard, Curtis Institute, Eastman School, Yale, New England Conservatory, Indiana University and many others. His students have filled orchestral positions worldwide, as well as chamber ensembles such as the Canadian Brass. Kaza has recorded for Philips, Nonesuch, Telarc, BMG and Crystal Records, and received several Grammy awards with the Saint Louis Symphony. Writer and producer of the humorous educational CD, Audition: Improbable, he is a regular contributor to the syndicated NPR radio show and podcast, Engines of Our Ingenuity. Kaza is interested in the acoustical and aesthetic pleasures of outdoor performance, and his performance of Olivier Messiaen's Appel Interstellaire, recorded at the bottom of the Grand Canyon, was personally critiqued by the composer and documented on Alex Ross's blog The Rest is Noise: Canyons in the Canyon.