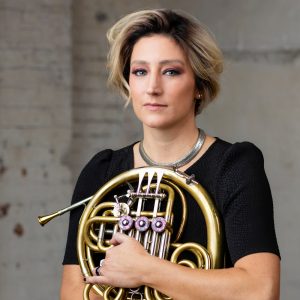 Rachel Drehmann, aka Attila the Horn, grew up among the farms, cheese-lovers, and her fellow Packer fans outside of Green Bay, Wisconsin.
She began playing French horn at a young age and headed to Minneapolis to earn her Bachelor of Music degree from the University of Minnesota, studying with such experts as Wayne Lu and Charles Kavalovski. After graduation, she trekked to New York City to study with Jerome Ashby at Manhattan School of Music, where she earned her Masters of Music degree. Since then, Rachel has been based out of Upper Manhattan and her performing career has thrived as she continues to perform in a wide range of musical genres—from classical to pop to Broadway to indie rock.
In the United States, Rachel has joined forces with Tilt Creative Brass Band, Banda de Los Muertos, Chamber Orchestra of New York and was also a member of the indie rock band A Whisper In The Noise. She performed Ligeti's Horn Trio at the Hungarian Cultural Institute in 2008 and worked through the IHS Meir Rimon Commissioning Fund to commission and premier a piece by John Clark. As a soloist, Rachel performed Strauss' Horn Concerto No. 1 with the Brooklyn Symphony Orchestra and was the solo horn in Shakespeare in the Park's Euripides' The Bacchae in 2009. As an active New York City freelancer, Rachel has performed with orchestras such as the American Symphony Orchestra, the Albany Symphony, the Northeast Pennsylvania Philharmonic, The Knights, and Metropolis Ensemble, as well as with numerous Broadway shows. She is currently working with Ann Ellsworth to showcase a series of Baroque concertos for two soprano horns.